DAVIS JASPERS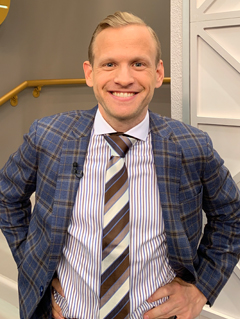 Davis Jaspers is the founder of VitaLife, a weight loss company that has helped countless people lose 40lbs of fat in 40 days. Having struggled with his weight from a young age, he decided to change his way of eating and approach to life, ultimately losing 50 pounds and gaining a life of vitality.
Now, his program is licensed to 30 different locations around the country. Before even graduating college Davis caught the entrepreneurial bug and has since started 6 different companies in 4 different fields. VitaLife is his pride and joy, being picked up on ABC7 Chicago's "Windy City Live" Davis has co-hosted several health segments over the past 2 years. He also hosts a local radio show, "Life with Vitality", every Tuesday morning on 1340 WJOL. Davis contributes his success to his passion for helping others transform their lives.
COACH CARL
Carl takes a personal approach to coaching by using his experience on the VitaLife program to connect with his trainee on what they are going through.
COACH DAVE
Dave is a VitaLife OG. As father to VitaLife founder Davis Jaspers, Dave was the first to try the program. He has since lost and kept off 56lbs. He is also an owner, office manager and health coach.
COACH MIKE
Mike cares deeply that everyone he coaches has a happy and successful experience. He works to not only help them lose weight but to become an overall healthier person.
COACH OTTO
Otto is a VitaLife vet and holds a true passion in his heart for transformation. He believes weight loss doesn't just affect the waistline, but it creates a ripple effect in life that leads to positivity and happiness.
COACH SARA
Sara is a bright ball of energy always ready to hear from her trainees and see how she can best serve them in their weight loss journey.
COACH ESTER
Ester knows people are more than the numbers they see on a scale. With her, people discover who they really are without weight at the forefront of their minds.